Contributed by Lauren A. Curry
It's a funny thing to talk about Lifetime Achievement. The words suggest summation. A grand total. A backward look.
This past weekend, Rich and Deb Tarrant were presented with the 2016 Lifetime Achievement in Philanthropy Award from the University of Vermont Foundation. The award was given in recognition of the tremendous investments made by Rich and Deb, and by their Foundation, in efforts to improve middle-level education, advance medical research, and strengthen the University.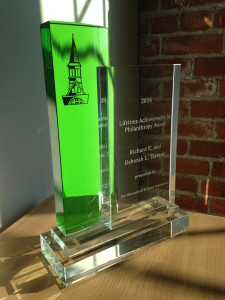 I could not have been prouder. And, I think it's safe to say, Rich and Deb could not have been more uncomfortable.
Neither Rich nor Deb likes to be praised for their generosity. You'll hear Rich say in the video below that even the word philanthropy doesn't sit well with him. It's too soft. Rich considers the resources he and Deb invest in communities and programs around Vermont to be just that – investments. In exchange for those investments, he expects a non-monetary return, in the form of lives impacted, communities strengthened, and futures changed.
Rich and Deb accepted the award, with characteristic modesty, graciousness, and big serving of humor. They shook hands, smiled, and stood for pictures. Then they did what they do best: get back to work.
In just the couple of days since the award presentation, Rich and Deb have met with numerous leaders who are tackling some of our state's biggest challenges. They have talked statistics, theory, efficiency, and impact. They've emphasized the crucial balance between thinkers and doers. They've considered scope and next steps and how, as ever, to make the very most of the resources they have.
As much as I love to see Rich and Deb honored for all that they have done, for them the conversation is always about what lays ahead. What's been done is only ever a tiny part of what can be done. Our job is to get focused, get organized, and tackle what's next.
Onward.
Lauren A. Curry has served as Executive Director of the Richard E. and Deborah L. Tarrant Foundation since 2005.