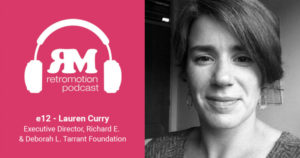 Contributed by Lauren A. Curry
Foundations can be mysterious things – understandable, but not that helpful when it comes to building effective partnerships.
Resources are always finite, though, and the Tarrant Foundation has long made the strategic decision to maximize our spending on grantmaking. We designed our website and the media posted there to provide clear information and a sense of the context in which we work, but we invest very little in trying to push our story out into the broader community.
It's a tradeoff, we know. One that perhaps contributes to that sense of mystery. But one we're glad to make when it means putting more dollars into our grants.
Grantmaking is our core work. We invest significant time and money in those partnerships – building relationships, collaborating, and putting a whole lot of miles on my car every year! Chances are if you're reading this, you and I have sat down together at least once to talk about the difference you're trying to make in your community. Maybe that took place in your office … or on the back porch of one of your clients, or in a field full of poison ivy, or on the floor while building marshmallow towers with at-risk youth. Maybe it was at the bedside of a dying patient, or in a steamy kitchen, or in a horse barn, or on a jobsite, or at a picnic table. Maybe it was in an empty lot with nothing to see but what the space could be, someday, if only the right partners could be engaged.
Wherever that meeting happened, I was glad to be there (yes, even that time with the poison ivy). I learned a lot from you and your colleagues, from getting to know your community, and from seeing your vision in action. Hopefully you felt like you learned some things too, about who we might be as partners, about how we work, and about the process we were asking you to move through with us.
Still, we know the veil exists.
Earlier this spring when there was still waaaaaaaay too much snow on the ground, I was invited to share some of the Foundation's story on RetroMotion Creative's podcast. RM made several of the videos we use on our website, including this one that I love featuring Rich and Deb talking about their approach to giving.
The podcast picks up with the making of that video, then delves into some of the structures and strategies we've built around the Tarrants' vision. More than that, it's hopefully an opportunity to get to know us a little better, and to make this whole thing maybe a little less mysterious. Bonus features include YouTube PD, the Mythbusters Mega Merrython, lessons learned from my personal non-profit endeavors, and tough love from @thewhineydonor.
---
Lauren A. Curry has served as Executive Director of the Richard E. and Deborah L. Tarrant Foundation since 2005.