Contributed by Lauren A. Curry
Recently I shared news that Rich and Deb had been honored with the Lifetime Achievement in Philanthropy Award from the UVM Foundation. It was a wonderful honor, and a great opportunity for me to reflect on the many things accomplished through the Tarrants' generosity to our communities.
Rich would be the first to tell you that we can't do any of this on our own. Our work is only as good as the many incredible people out there who turn our investments into action at the community level.
Top of that list in our minds is Dr. Penny Bishop, Associate Dean and Professor in UVM's College of Education and Social Services, and Director of the Tarrant Institute for Innovative Education at UVM. For the past decade, Penny has contributed outstanding leadership, vision, wisdom, and hard work to manage our investments in middle-level education throughout the state. Her partnership has turned that investment into something far more meaningful and far more effective than could ever have been achieved without her.
But don't take our word for it.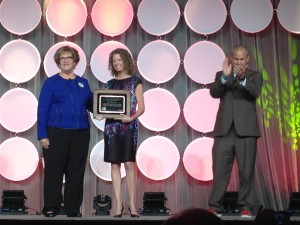 Last week at the Association of Middle Level Education's (AMLE) national conference in Austin, Penny received the John H. Lounsbury Award for Distinguished Achievement. This prestigious award is the association's highest honor, given only in those years when a sufficiently meritorious candidate emerges.
It was a great pleasure to see Penny honored for her many important contributions to the field of middle level education, and for the groundbreaking work she undertakes here in Vermont. Our board and staff are incredibly lucky to benefit from her leadership of the Tarrant Institute, and from her friendship as well.
Congratulations, Penny! You earned it.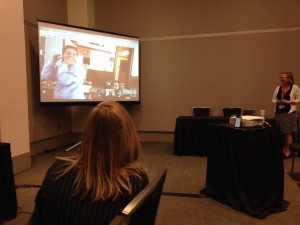 Penny's award wasn't the only highlight of this year's AMLE conference. Members of the Tarrant Institute team made a record 14 presentations at AMLE, featuring stories, strategies, and research from their many partnerships with Vermont educators. Attendees even got to visit directly with some Vermont students (above) to learn about how personalization through technology is working for them!
For more information on the AMLE sessions or about the Tarrant Institute, check out their blog here.
Lauren A. Curry has served as Executive Director of the Richard E. and Deborah L. Tarrant Foundation since 2005.